Mrs. Kelly
Mrs. Kelly has been teaching in the childcare field for more then 10 years. She has two children of her own and enjoys creating memorable bonds with the children in her classroom. She likes to do crafts and plan activities to educate through play and play based fun.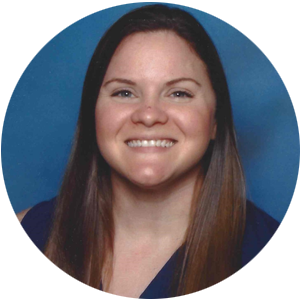 Marie Garland
Mrs. Marie has been teaching for over 14 years. She has worked with children from infants to school age. She currently teaches the Part-Time VPK and is the Director of Academics. She has an Associate Degree in Elementary Education, CDA and Directors Certificate. She strives to have each child not only ready to take on Kindergarten but go into it with exceeding knowledge. Her biggest goal in the classroom is to have each child reading by the end of the year! Her favorite things are going to the beach and spending time with loved ones!
We implement the Creative Curriculum which has 38 objectives for development and learning. These objectives coincide with Hillsborough County Expectations and School Readiness Goals for this age group.
Our VPK Programs are taught by Mrs. Kelly and Mrs. Marie. The main objective in VPK is to get each child ready for the transition into Kindergarten. The teachers develop activities to promote Kindergarten Readiness and the Social and Emotional foundation needed to support the children in their future endeavors.
VPK participates in the Scholastics Classroom Magazines. These magazines highlight and support the main objectives taught throughout the year. One year subscription is $10.
Our VPK Classrooms sends home monthly Standards to inform the children's families of the main objectives for the month. These Standards progress in difficulty throughout the year. Our goal is to give each child one full month to attain a new objective before moving on to another. We inform the parents by sending home a copy each month in hopes to extend the education process outside of the classroom.
VPK Main Objectives- Reading, Emergent Writing, Social and Emotional, Mathematics, Science, Social Studies, Gross Motor Development, Fine Motor Development, and the Arts
We hold conferences in November and April each year. The teachers and parents meet and discuss the children's current progress and future goals.
We strive to have our VPK children not only ready for Kindergarten but ready to take on any challenge that life throws their way with perseverance, curiosity, and a positive attitude.
Four Year Old Programs Features:
14 Thematic Play Centers
Chapel
Calm Down/ Quiet Space
Sand and Water Activity Area
Participates in Scholastic Magazine Subscription
Computer Center
Monthly Bounce Houses
 *Part Time VPK
8:30 a.m. – 11:30 a.m.
Free
*Full Day VPK
7:00 a.m. – 5:45 p.m.
$120 Weekly
*Morning Care
7:00 a.m. – 8:30 a.m.
$35 Weekly
*Summer and
Non VPK Weeks
$140 Weekly
*Breakfast, Lunch and Snack Included