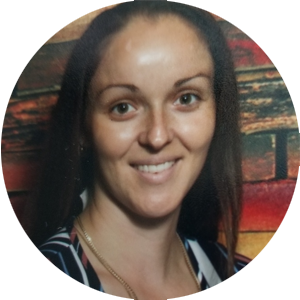 Toddlers One Year Old Program ​​Taught by Ms. Brittany
Tuition Rate- $185 weekly
Breakfast, Lunch and Snack included
We implement the Creative Curriculum which has 38 objectives for development and learning. These objectives coincide with Hillsborough County Expectations and School Readiness Goals for this age group.
Our Toddler One Year Old Classroom is taught by Ms. Brittany. She has been in childcare for more than 5 years. She is a proud parent of 4 children. She has a CDA teaching certificate and has worked with children that range from infant to 5 yrs. old. She was inspired to work with children when she participated in the Great American Teach In for her sons Kindergarten class. She is a great member of our team and strives to develop each child's curiosity. She practices Literacy and Language throughout the day with meaningful interaction. She implements child directed lessons to help each child meet their individual goals in a nurturing environment.
Toddler Main Objectives- Cognitive, Social and Emotional, Gross and Fine Motor, Communication and Physical Health.
We hold conferences in November and April each year. The teachers and parents meet and discuss the children's current progress and future goals.
We strive to have our Toddler- One's learn to be more independent, strengthen their fine and gross motor skills and begin exploring language and word concepts.
One Year Old Program Features:
10 Thematic Play Centers
Calm Down/Quiet Space
Sand and Water Activity Area